Jersey-Angus cross breed beef on sale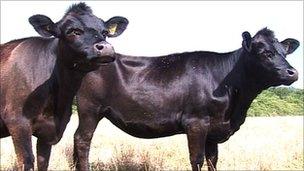 Jersey's first cross-breed beef is going on sale in the island.
It is the first beef from the Jersey-Angus cattle, bred since the importation of bull semen was allowed to strengthen the island herd.
There are four cattle farmers based in Jersey who are producing mixed breeds, part Jersey cow, part Aberdeen Angus.
The first batch is coming from La Caroline Farm in St Peter, run by farmer Richard Lee who says the meat is superb quality.
Genuine Jersey, the group responsible for promoting local produce, are hoping the meat will be sought after by local chefs.
The cattle are produced from dairy cows not used for breeding replacements to the dairy herd.
Jersey based master butcher Roger Jenkins said there had been a lot of interest in the meat.
He said: "We've got some really good pre-orders on it where people just have to try it.
"The orders are from a general spectrum of our clients, from people doing a dinner party to people wanting steaks for the barbecue."
Related Internet Links
The BBC is not responsible for the content of external sites.