Retirement age in Jersey could be raised to 67 by 2031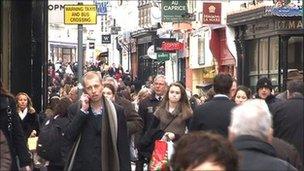 Raising Jersey's retirement age would be fairer for all generations, the social security minister has said.
People aged under 57 could have to work up to an additional two years before getting their States pension.
Social Security Minister, Deputy Ian Gorst, wants to increase the retirement age to 67 for men and women.
If members of the States of Jersey agree to his plans it would be phased in over two decades, finally coming into force from 2031.
David Warr, the vice chairman of the Jersey Chamber of Commerce said a rise in the pension age was inevitable and that there were positives and negatives in the idea.
He said: "I think it is inevitable given the changing demographics of our society. In the western world people are living longer and if you want a pension at your pensionable age I think we have to save for longer.
"That is the reality of our times, I think we just have to be realistic and pragmatic about it."
Deputy Gorst said that if nothing changes the pension fund would run out by 2030 as people live longer.
He said that the money being paid out from the Social Security Fund would soon be greater than the contributions coming in.
"We actually need people to work longer to keep our economy going so we don't put too much of a burden on our younger people. Because we know there will be fewer of them available to work."
The minister said it was important older workers were valued and cared for.
He said: "There is also a lot of other work that government have to do alongside this. We have to make sure that older workers are valued by employers.
"We need to make sure that those that do want to change jobs, because they're in a manually difficult job, that there are retraining opportunities for them."
The States will debate the issue in June.
Related Internet Links
The BBC is not responsible for the content of external sites.