Sponsor saves the Jersey Sailing Trust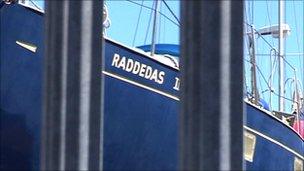 A trust that promotes sailing in Jersey has been saved by last-minute sponsorship from a shipping company.
The Jersey Sailing Trust's five boats had been confiscated by Jersey Harbours because of unpaid dues, and were scheduled to be sold off on Friday.
Jersey's Huelin Renouf came forward to help keep the trust in operation.
Jonathan Bale, from the company said he felt that, as a locally-owned shipping company, it was appropriate for them to support the community project.
Ian Vidamore, from the Jersey Sailing Trust, said: "Conversations started bubbling, e-mails backwards and forwards and by 3 o'clock a conclusion had been reached and an offer of support crystallised."
Related Internet Links
The BBC is not responsible for the content of external sites.