Jersey Milk fake page 'is puerile'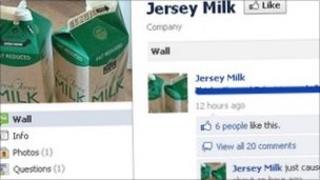 Jersey Dairy have described a fake social media profile for Jersey Milk as "puerile".
The Jersey Milk Facebook profile was set up in March 2009 by an unknown author and has over 4,100 "likes".
The page is a parody of Jersey Milk with posts about cows and the taste but also includes posts from the anonymous author and others on a range of topics.
Jersey Dairy said the page had nothing to do with the company but it had no plans to try and get it removed.
Christopher Journeaux, head of marketing, said removing the page could just cause users to split into different groups posting pages of their own.
He said: "Unless there is something clearly illegal going on, and it is clear from the website page that many of the users are complaining about it, it isn't worth the effort, it would do more damage."
Jersey Dairy is planning on setting up its own Facebook page.
Mr Journeaux said: "We have been working to make it relevant to users, it has to have something active to bring people in."