Fewer people are getting married in Jersey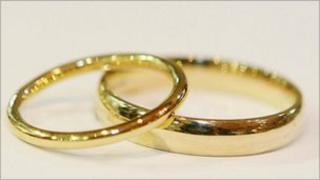 Fewer people are getting married in Jersey compared with a decade ago.
Register Office figures show the number of weddings is gradually declining.
Sue Groves, the senior registrar, said it could be because people were getting married later.
"Marriage becomes one of those stages that is further along people's life plans than it was previously when there was not so much choice available, particularly to women to work and to not have a family until later."
But the figures also show that a quarter of marriages in Jersey are between couples who live elsewhere.
And Sue Groves said Jersey could do more to make money from wedding tourism.
"After the war [World War II] we were seen as the honeymoon island, it is actually quite a significant little lump of business coming in for the island that perhaps needs to be recognised as such."
"Weddings could be a serious cash investment in Jersey."