Arm impaled construction worker leaves hospital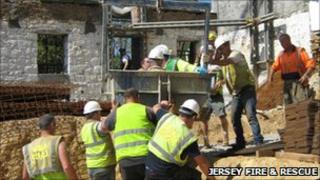 A man whose arm was impaled on a metal bar at a Jersey building site has been released from hospital.
Jersey fire crews and paramedics had worked together to help free the construction worker at a building site in St Martin on Tuesday.
The injured man had to be lifted out of the site by crane with the metal pole still in his arm.
Michael Baudains, from the States of Jersey Fire and Rescue service, said it was the safest way to move him.