Jersey issues commemorative royal wedding coins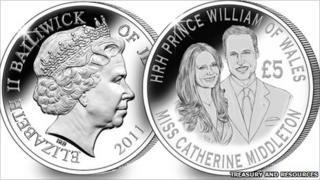 A series of Jersey coins have been issued to commemorate the forthcoming royal wedding.
Prince William and Kate Middleton are tying the knot on Friday 29 April and the coins show a design of the Royal couple.
The coins are available in £5 and £10 denominations and a special gold £1 coin will be issued later this month to mark the year of the wedding.
The Treasury said the £5 coin was expected to be the most popular.
The £5 coin can be bought at face value but the full range of coins, including £5 and £10 gold and silver coins, can cost between £75 and £2,995.