Giant chocolate egg to be raffled for Jersey charity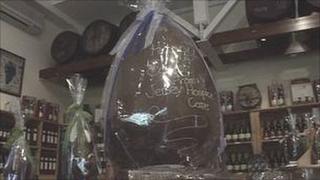 A one metre high, 20kg chocolate egg has been made by staff at La Mare Vineyards.
It will be raffled off to raise money for the charity Jersey Hospice Care.
Chocolatier Darren Stower said: "There is a larger size mould as well, but this was the largest we could make and then sell on."
Raffle tickets are £5 and are on sale at Maison La Mare, the Jersey Hospice shops and Clarkson House.
The raffle will be drawn on Friday after the Doreen Hennessy Good Friday Easter Bonnet Parade.