Little Big Band and Bloody Battle win festival slot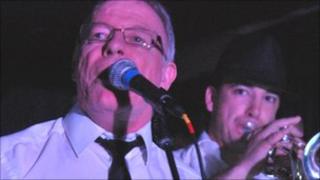 An 11-piece swing band and a heavy rock band have won the chance to open the Jersey Live festival of music in September.
The Little Big Band and The Bloody Battle beat six other acts to win the main stage slot at the Jersey Live Battle of the Bands competition.
The Tracy's and Hold Your Fire also won the chance to play on the second stage.
There were about 300 people at the event that also saw Brobots, Pro Bono, Suit Alor and The Reasons perform.
Jersey Live festival organiser and judge Warren Holt said it was a strong line-up.
'Great honour'
He told BBC News: "Amazing, that was one of the best battles that we have had to be honest.
"Such diversity between Bloody Battle and Little Big Band, it is fantastic.
"Really stretching the imagination which is what a festival is all about, it is about it being performance and they were the best performing bands."
Steve McVay, from the Little Big Band, said he was shocked his band had won.
He said: "I was surprised actually, an old age pensioner like me but it was a great honour, really pleased."