Extra land could be added to Jersey's national park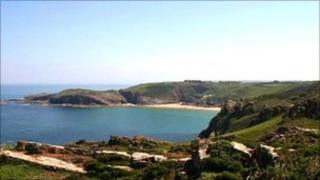 A valley, a common and land near the north coast of Jersey could be added to the island's proposed national park.
The States of Jersey plan to turn parts of the island into a National Park to protect scenery and wildlife.
Senator Francis Le Gresley said the government must do more to protect the island from development.
He wants more of the island to be included in the national park proposals.
Senator Le Gresley's suggestions are to be debated by The States of Jersey as part of a strategy for the future use of land.
The areas are Mourier Valley in St Mary, Gorey Common, the Plemont Headland and fields and tracks along the North coast.
The Senator said it was time to make clear to developers that the government would not tolerate any further human erosion of the coastline in the countryside.
Senator Le Gresley said the profit to be made from homes with a sea view encourages more building.
He said: "We know that a property on the coastline commands a price possibly another £300,000 over its value if it was inland.
"Of course we would all like a place by the sea but our island is a place of beauty and we can't have these large scale developments on our coastline."
The national park proposals are part of the Island Plan which is due to be debated at the end of June.