Royal wedding 'boosts sales of Jersey Royal potatoes'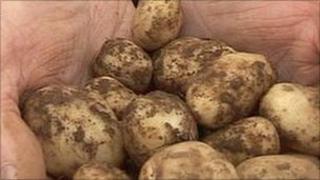 A UK supermarket claims a rise in sales of Jersey Royal potatoes has been caused by the Royal wedding.
Tesco said sales had exceeded expectations because of the name association.
Treeva Fenwick from Tesco said: "We did not anticipate it but because of the Royal in the name, we are just seeing them fly off the shelves at the moment.
"Last year 250 tonnes of Jersey Royals were shipped to the UK, but by the end of last week 1,300 tonnes were shipped.
The Jersey Royal Company said good growing conditions have given a healthy crop this season.
The company said teams picking the potatoes have moved outdoors to Jersey's steep cotils.
William Church, from the Jersey Royal Company, said the popularity of a new variety the Pearl, which is smaller than the Mids, have also whetted appetites for Jersey's native potato.