Seats at Jersey's Springfield stadium vandalised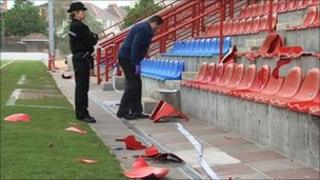 Twelve youths have been arrested after seats at Jersey's Springfield stadium were vandalised.
The States of Jersey Police were called at 2215 BST on Tuesday after 42 seats were stamped on, broken apart and pulled off.
The 12 arrested people are all under the age of 16.
Duty Insp Paul Kennea said he thought the damage was substantial and the repair bill would run into hundreds, if not thousands, of pounds.
Mr Kennea said this level of vandalism was not common in the island.
"From time to time it happens, but I would say this is an isolated incident," he said.