Jersey sea cadets may get new home at St Helier harbour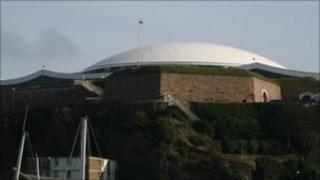 Jersey's sea cadets could have a permanent home near the St Helier harbour.
There are proposals for a new building on the Old South Pier to replace the current headquarters at Fort Regent.
Deputy Ian Gorst said the sea cadets headquarters at the Fort were in need of renovation.
But he said any work on the current building would be a waste of money, as they would need to move for any development at the site.
Deputy Gorst wants to protect a site at the Old South Pier near St Helier Harbour.
He said it has already been considered as a site for the organisation which teaches youngsters about the sea.
He is asking the States to allocate the area for community use, to include development of a headquarters for the sea cadets.