Jersey paper claims royal wedding photo 'first'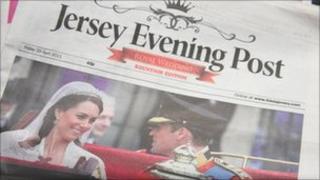 Jersey's only newspaper, the Jersey Evening Post, has claimed to be one of the first in the world to publish with a photo of the royal wedding.
The paper started the printing presses late so it would be available for sale with a photo of the married couple.
Carl Walker, Jersey Evening Post news editor, said he hoped the souvenir edition would be a keepsake.
The newspaper left the JEP offices at 1255 BST and was on sale at the first location in St Helier by 1305 BST.
Photos of Prince William and the Duchess of Cambridge were sent straight to the JEP offices from Westminster Abbey.
Mr Walker said: "It is such a huge occasion internationally, nationally and locally, we felt our special souvenir edition needed the happy couple on the front page.
"Due to the proximity of our printing presses, in our office and how close we are to town we took the decision to delay the printing presses and hold the front page."