Jersey's Green House graffiti is removed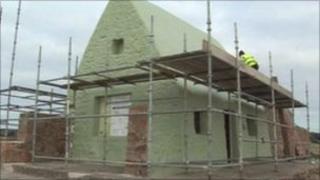 Words painted on a landmark in St Ouen's Bay that was being used by the National Trust have been painted over.
"Clean Me" was written in white paint over the now green coloured Caumine a Marie Best.
Normally known as the "White House", it became green as part of a controversial National Trust for Jersey campaign.
It was unpopular with a number of islanders, but the Trust wanted to make a bold statement about its greener-living campaign.
Over the bank holiday weekend someone painted "Clean Me" on the roof and added smiley faces to two windows.
That has now been painted over with green paint by the Trust.
Le Don Hilton, known as the white house, was an old guard house at the centre of St Ouen's Bay.
Its owner, the National Trust for Jersey, painted it green to mark the charity's environmental campaign and its 75th anniversary.