'Biggest and best' strawberries in Jersey in 20 years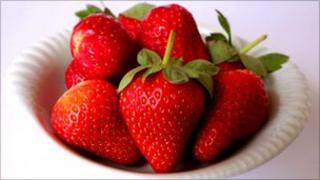 Jersey growers are enjoying the biggest and best crop of strawberries in about two decades.
Joe Freire and Paul Blake said this year's crop of strawberries were sweeter thanks to the warm weather in Jersey this spring.
Increased sugar levels have made the current crop much sweeter and juicier than normal.
Meanwhile one of England's largest strawberry farmers, R and V Emery, said their production yield was up by 150%.
A spokesman told the BBC that good levels of light had helped the fruit set and encouraged bees to pollinate the plants.