Jersey electoral commission may cost more than £190,000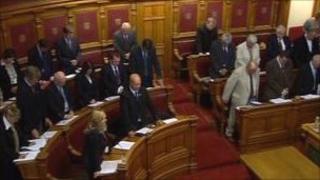 The committee responsible for managing the States of Jersey said an electoral commission would cost about £190,000.
The Privileges and Procedures Committee has produced a report on the commission after States members voted to set one up in March.
In the report they estimated that if all members were based in Jersey it would cost £190,000.
But, it would cost an extra £55,000 for every member from outside the island based on a £500 salary per day.
In March Deputy Daniel Wimberley brought a proposition asking for the establishment of an electoral commission.
The proposition passed with 29 votes in favour to 18 against.
Terms of office
The commission will consider the classes of States members, constituencies and mandates, the number of states members and terms of office.
It will also look at the functions of the electoral process, voting systems and voter registration.
The States of Jersey will debate the cost and composition of the electoral commission as part of the 2012 island business plan in September.
The commission will then go away and look at all the options before its findings go back to the States of Jersey to be voted on before being put to the island in a referendum.