National Trust for Jersey wants larger coastal park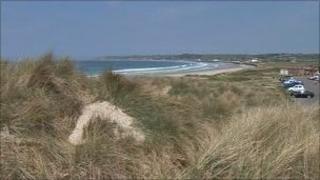 Jersey's Island Plan could see more coastal areas, including sand dunes at Gorey, included in plans to create a coastal national park.
The idea could be added to the Island Development Plan if agreed by the States of Jersey in June.
The National Trust for Jersey is backing the additional measures.
These would include widening the protection zone along the coast and protecting the area next to the Longbeach car park in Grouville.
Mike Stentiford, president of the National Trust for Jersey, said more sites should be recognised.
He said: "They are included in the coastal park on the west of the island so why can't they be included in the north.
"At the moment the original plan for the coastal park was a very thin line along the north coast, we need more robust protection than a thin pathway."