Olympic torch relay set to visit Jersey in 2012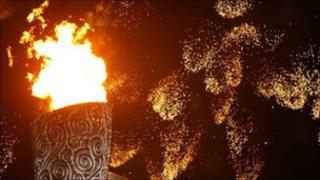 The Olympic torch will be visiting Jersey on 15 July 2012 as part of its trip around the UK in the run up to the London Games.
Jersey's Tourism department is organising the event and said while it did not know the route, it knew it would end up in Weighbridge Place.
David de Carteret, from Jersey Tourism, said a team from London would be in Jersey on 8 June to discuss the route.
The torch will be in Jersey in the afternoon of 15 July.
It will start its Channel Island journey in Guernsey in the morning, come to Jersey and will then move on to Portsmouth for an evening visit.
Six islands
The Olympic flame will arrive at the Olympic Stadium on 27 July 2012 and will be carried across the UK by 8,000 torchbearers.
Sebastian Coe, Chairman of the London Olympic Games Organising Committee, said: "The Olympic flame will shine a light right across every nation and region of the UK and showcase the very best of who we are and where we live.
"The first locations on the route confirmed today give a flavour of the reach the Olympic torch relay will have around the UK and how extensive the opportunity for starting to celebrate the London 2012 Olympic Games will be."
It is thought the flame will travel for about 12 hours each day, concluding on 66 of the 70 days with an early evening celebration event.
The flame will visit six islands en route: the Isle of Man, Guernsey, Jersey, Shetland, Orkney and the Isle of Lewis.
In each island a community led celebration will welcome the Olympic flame and torchbearers will run in relay.