Jersey teenagers surveyed admit drinking heavily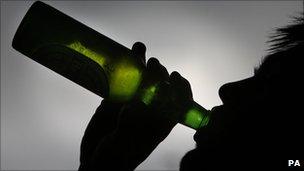 A fifth of 14 and 15-year-olds in Jersey have said they get drunk at least once a week.
The findings laid out in the health-related behaviour survey also found that overall children's smoking, drinking and drug taking was down.
Figures showed 10% of boys and 2% of girls aged 10 and 11 said they had drunk alcohol in the past week, but 79% said their parents knew about it.
The most common reason for drinking was to socialise and have fun.
Despite these figures, the health department insisted progress was being made when it came to children's health.
However, it is concerned children are experimenting with cannabis and so-called legal highs, with and 16% of 14 and 15-year-olds admitting taking an illegal drug.
Almost 3,000 children aged 10 to 15 took part in the survey which was carried out by Jersey's health department.
The survey has taken place every four years since 1996 in secondary schools and since 1998 in primary schools.
Andrew Heaven, from the department, said children seem to be healthier but there was still work to do.
Related Internet Links
The BBC is not responsible for the content of external sites.