Ting Tings play Jersey Live festival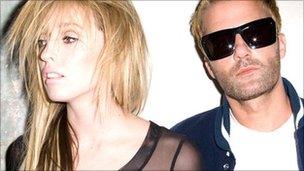 Award-winning indie pop band, The Ting Tings, will be playing their only British festival in Jersey in September according to festival organisers.
The duo will be performing on Sunday night at the Jersey Live festival, supporting singer-songwriter Plan B who is headlining.
New York disco-punk act, The Rapture, will also be performing their only UK festival date in Jersey.
Madness will also headline the event on the Saturday.
Festival co-director, Warren Holt, said: "We've actually managed to get The Rapture which is an exclusive festival date in the UK, so no other festival will have The Rapture.
"Another exclusive is the Ting Tings which is another massive act for us. They will play before Plan B on the Sunday."
Organisers are also bringing Red Dwarf star and BBC 6music DJ Craig Charles back to the island.
He last performed at Jersey Live in 2009 when he hosted the main stage. This year he will be DJing on the Hospitality Stage.
Jersey Live is on Saturday 3 and Sunday 4 September at the Royal Jersey Showground in Trinity.
Related Internet Links
The BBC is not responsible for the content of external sites.