Jersey cow numbers could fall says gene expert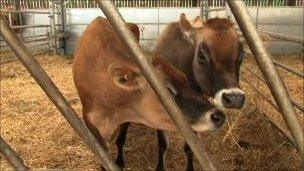 The number of pure-bred Jersey cows could fall over the coming years because of a genetic breeding technique, according to a gene expert.
Henry Walker, director of Jersey Island Genetics, has been looking at the impact of using imported bull semen.
In July 2008, the States of Jersey ended the ban on the import of bull semen from any breed of cattle.
Since then, farmers have been genetically developing some herds of Jersey cows using the imported semen.
Mr Walker said some farmers were breeding cattle this way because it was more profitable and produced bigger and taller Jersey cows who gave more milk.
But he said he felt it would be a shame if the unique gene status of Jersey cows was to disappear.
He said: "For the sake of the planet perhaps you know it is something that should be maintained and this animal has had no outside interference for such a long time.
"But undoubtably, the farmers who wish to continue in the industry will find it difficult to resist the economic neccessity of using this imported semen to get cows that are going to be profitable for them."
Related Internet Links
The BBC is not responsible for the content of external sites.