Jersey's General Hospital 'needs repairs or replacing'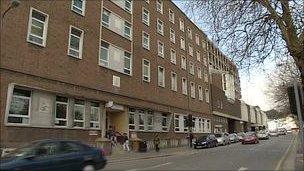 Jersey's General Hospital will have to be repaired or replaced at a cost of up to £300m.
The suggestion is made in a study which argues Jersey's health service will soon not cope with the demands of an ageing society.
Islanders in Jersey are being asked for their views about future models for health care in the island.
Andrew Hine, a consultant from KPMG who did the report, said the hospital needed a major refurbishment.
And he said doctors, nurses and therapists, social care services and the general hospital are all expected to come under added strain unless the system changes.
Mr Hine said: "Once the population of Jersey has said what it believes the way forward is and once the ministers have considered that in due course, a model will be set for the future.
"There will then be decisions taken about how that should be funded but potentially there are important considerations in the future."
Julie Garbutt, the chief executive of the health service, said: "If we carry on as we are, we have to provide services clearly, but what will happen is people will wait a lot longer for those services.
"We will have to invest heavily in more doctors and nurses, and hospital buildings, wards and theatres, services within the community, and that obviously has a very significant price tag associated with it.
"Or we can choose to manage that future by developing a different type of health and social services, which will still be quite expensive but it will not be as expensive."
The results of the consultation will be analysed and the key findings will be published in the autumn.
Related Internet Links
The BBC is not responsible for the content of external sites.