Plans to extend shelter for men in Jersey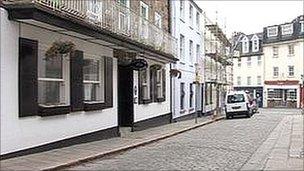 There are plans for 20 apartments to be used as long-term accommodation for men in Jersey who have stayed in the men's refuge.
When Sanctuary House opened in St Aubin it was full within hours.
Men who need support during a life crisis can stay there for up to eight weeks, and it can house 11 people.
Deputy Sean Power announced on BBC Radio Jersey that the charity was in talks to offer longer-term support with 20 studio flats in St Helier.
There would be a warden to support residents and the landlord is to remain anonymous.
The Deputy said: "Within a few hours of opening we were full, so we are now actively looking at expanding."
The plans to open the shelter in St Aubin were opposed by some parishioners, who argued it was the wrong place to have it.
One resident at the refuge, Tom, said: "It has given me a chance to be able to sit back and evaluate what I need to do, what my changes need to be and then it has given me a chance to be able to go out and do that, to get work, accommodation and build a basic structure to my life."
At 1100 BST the refuge will be officially opened by the Reverend Mark Bond and Deputy Sean Power, who are on the Shelter's overseeing committee.
There will be a blessing and a short service to mark the opening.
Related Internet Links
The BBC is not responsible for the content of external sites.