Jersey celebrates links with Normandy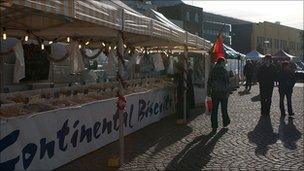 St Helier town centre is the focus for a festival to celebrate Jersey's links with Normandy.
Posters and signs around St Helier will be promoting the Fete Nouormande.
It is a celebration of Jersey's native language and traditions, and this year the festival is also marking the 1,100th anniversary of the founding of the Duchy of Normandy.
There will be Jerriais poetry in the streets and a treasure hunt quiz around town.
The festival will take place from 9 to 12 June 2011 and features a Norman-French market in Weighbridge Place, meetings, parades and celebrations.
There will also be entertainment in the form of musicians, poets, arts and crafts products and Norman games.
One of the organisers, Geraint Jennings, said it was an opportunity to celebrate Jersey traditions.
He said: "You do not have to speak Jerriais to think that this is a treasure of the island, a language which is not spoken everywhere else, something which is unique and special."
Related Internet Links
The BBC is not responsible for the content of external sites.