Jersey farmers' concern at lack of rain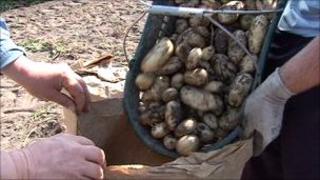 Farmers and growers in Jersey have said the prolonged dry spell is having a worrying effect on their crops and animal feed.
Jersey's Met Department said it had been the second driest spring on record with rainfall well below average.
William Church from the Jersey Royal Company said the harvest for Jersey Royals was lower than usual.
"Overall the yield is remarkably down, it is worryingly down you could say."
Mr Church said: "From a lifting point of view they are lifting but it is very dry, very dusty and not very pleasant to be on the bake of a harvester.
"Also our lifting speeds are much slower than they would be if you had a bit of rain on it."
And some dairy farmers are facing the prospect of importing expensive feed from outside the island.
Andrew le Gallais said he was worried that grass and other feed for cows were in short supply.