Jersey plans care home contribution plan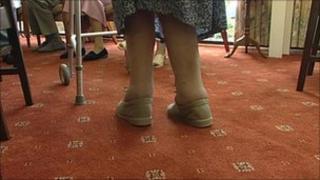 People in Jersey could have to make compulsory contributions to pay for residential care when they get older under government care reform plans.
A new law has been proposed that could provide residential care for free in return for a compulsory contribution.
A States report found that by 2040, 30% of the island's population will be aged 65 or over, double the amount in 2011.
That rate would be fixed for five years from 2013, with the States paying £30m a year.
Under the scheme anyone needing long-term care would receive it.
The plan would see those needing long-term care receive it for free but it would be paid for by employees, the self-employed and pensioners who would be expected to contribute 1.5% of their earnings.
Jersey's council of ministers said they wanted to remove the financial uncertainty they say many people face when someone goes into care.
They said that needing to sell the family home to pay for fees would be a thing of the past.
Measures, including the compulsory contribution plan are being brought in to try and meet the challenges the ageing population would pose.
States members agreed to raise the pension age to 67 on Wednesday.