Condor ferries told to improve service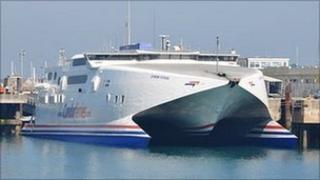 Condor Ferries has been told to improve its service or lose its permit to operate in the Channel Islands.
A meeting was held between the island's only passenger ferry operator and politicians in Guernsey on Tuesday.
In recent months, a number of Condor ferries have experienced engine failure, which has caused sailing to be disrupted.
Simon Edsall, managing director of Condor Ferries, said the recent service had been unnaceptable.
He said: "We have had technical problems and that is not something we as a company want to have.
"We have been working very hard to improve the level of service, we have had technical problems of late to pieces of equipment that were overhauled over the winter.
"There are issues with pieces of equipment we have had overhauled, spent some money, they are under warranty and have gone wrong."
Jersey's Economic Development Minister, Senator Alan Maclean said the structure of the service needed to be considered.
'Ageing fleet'
Jersey's States members asked Senator Maclean at the sitting on Tuesday what he he was going to do about the disruption to sailing.
He said he was taking steps to improve the service which he described as being below acceptable standards.
"What I do expect though is that the current fleet is properly maintained, we are assured it is," he said.
"That is a requirement but they are an ageing fleet and fast ferries take a lot of wear and tear."
Senator Maclean said he would like to make customer and performance surveys available to the public every quarter.
He said: "What we are looking for is a year-round reliable service at affordable prices and that is what we are working towards.
"Just recently Condor have fallen short of those standards, we are working with the company to ensure they do improve the level of service that has been offered just recently."
Mr Edsall said they had to comply with certain obligations over the quality of the fleet and frequency of sailings.
He said: "We are very much aligned with the islands and the residents to ensure we have a good service."