China trip to cost Jersey taxpayers £20,000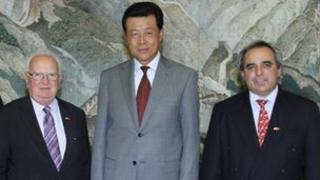 An official States of Jersey trip to China will cost taxpayers about £20,000, according to the island's treasury minister.
Senator Philip Ozouf said promoting Jersey in China would secure jobs.
The delegation, led by Chief Minister Senator Terry Le Sueur, hope to encourage business links with China.
Senator Ozouf's comments come after some islanders criticised the cost of the trip after Senator Le Sueur described the funding as "irrelevant".
Senator Ozouf said the benefits of strengthening the island's relationship with the world's fastest growing economy outweighed the cost of the visit.
The minister said it was vital that Jersey goes out to win new business to secure jobs.
He said: "We've got unemployment at the moment to a higher level than we have in the past.
"My ministerial colleagues and I are determined to ensure that those unemployment numbers fall.
"We need to secure jobs, we need to secure trade, we need to secure financial services industry and we need to secure export industry such as information technology and we are not going to do that if we sit on our desks in Jersey."
The delegation is being led by the chief minister, Senator Terry Le Sueur and foreign minister, Senator Freddie Cohen and includes a group from Jersey Finance.
Geoff Cook, Jersey Finance chief executive, told BBC News that local companies would see the benefits.
He said: "It will help push more work through Jersey firms.
"We've been through a slow down, we are starting to pick up and come out of this and this will create more work.
"This trip will encourage the creation of more work being placed through Jersey firms and in time that will have a positive effect on employment and tax receipts."