Jersey man wins black headstone campaign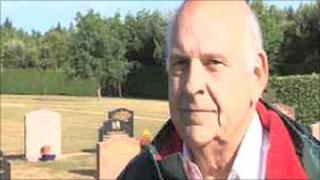 The rules for headstones in St Brelade are likely to be changed as the result of a widower's campaign to have a black stone put on his wife's grave.
The current regulations mean that only local stone can be used in graveyards.
Danny Michel petitioned to put up a black, heart-shaped headstone that his wife had wanted.
The parish Constable, Mike Jackson, said Mr Michel's story could mean other people will be allowed headstones made from non-local materials.
Local stone
Danny Michel was not allowed to put up a black gravestone because St Brelade rules say only locally-sourced stone must be used and there is no black granite-type material available in Jersey.
Mr Michel petitioned against that ruling and also argued there were already 14 black headstones in the cemetery.
Les Quennevais Cemetery Committee has now approved the use of natural black stone.
Mr Michel said he was delighted he should now be able to give his late wife the headstone she wanted.
"[I'm] very, very pleased with the situation and would like to thank everyone with their support on this issue.
"It can set my mind at rest that I have been able to do something that is worthwhile and in memory of my late wife."
Constable Jackson said the decision still needed to be approved in a Parish Assembly but he said with so much public support for Mr Michel's campaign that process would be a formality.