Jersey bull semen may be imported by China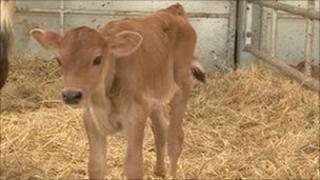 Jersey's foreign minister has said that China is interested in importing semen from Jersey bulls.
Senator Freddie Cohen has returned from an official visit to the country and said the Chinese were very excited by the potential of breeding Jersey cows.
He said the Chinese Institute of Agricultural Sciences wants to send scientists to study the cows.
He said: "This is a massive market and the Chinese are excited about the high butter fat content of Jersey cattle."
A change to regulations in 2010 allows Jersey to export bovine genetics around the world.
Jersey's director of Environmental Management and Rural Economy, Daniel Houseago, has been invited to speak at the third Sino-European Agricultural Seminar and Agricultural Projects Matchmaking Conference in China in August.
Senator Cohen was in China with a delegation led by Chief Minister Senator Terry Le Sueur to explore links between the two economies.