Jersey drivers warned of travel delays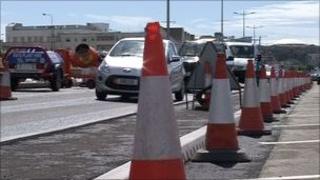 Travel disruption is expected on some of Jersey's busiest main roads throughout the rest of 2011.
The States will be doing major resurfacing work on Commercial Buildings, Beaumont Hill and the Airport Road.
The Transport and Technical Services road maintenance budget is nearly doubling in the next two years.
The department has scheduled resurfacing work in order of priority until 2013.
The department carried out a survey of the condition of the 164 miles of States main roads, and decided which needed improving the most.
The budget is going up from £1.7m for road maintenance in 2011 to £3m in 2013.