Jersey advice bureau sees 10% increase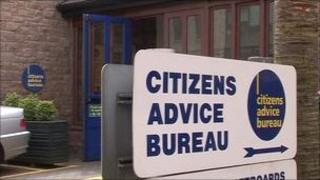 Jersey's citizens advice bureau has said that the number of cases it dealt with rose in 2010 by 10% from the previous year.
The bureau's annual report said the service dealt with more than 12,000 cases in 2010.
The report said the service saw people with concerns over debt, relationships, benefits, transport and immigration.
Bureau volunteer Steve Cole said he was seeing people with debts of more than £100,000 with "nothing to show for it".
Care concern
The report said that the service relied on a dedicated army of volunteers giving in total more than 6,000 hours of their time.
It said that a big issue for 2010 was concern about residential care, with the number of inquiries increasing by 23%.
Mr Cole said these were people who were worried and upset about having to sell their homes in order to pay for care at the end of their lives.
"People are worried, even people who have a house or a little bit of money are going into residential care," he said.
"They can be in these homes for 10-20 years and at £15,000 per year they can see their money trickling away."