St Helier in Jersey needs 24 honorary officers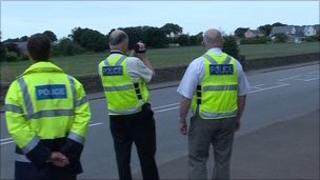 The constable of St Helier has said the parish still has 24 honorary police vacancies despite a recruitment drive.
Constable Simon Crowcroft said half of the 52 honorary police posts were currently vacant.
He said he thought the reason it was difficult to recruit to the voluntary posts was because people were more busy.
The constable said they were able to fill two posts at a breakfast meeting taking the total of vacancies to 24.
He said: "We didn't have a big turnout but we signed up a couple of Constables officers.
"One doesn't want to overstress that we are 26 officers short, the important thing is we are looking for people interested in supporting their community and making it safer."
Constable Crowcroft said a shortage of officers put a real burden on existing ones who combine their personal and professional lives with volunteering.
He said: "If we had more honorary officers we would be putting out the speed control more frequently, we could do something about dog owners allowing their dogs to foul the pavement.
"That kind of policing requires the honorary police but if you haven't got a full compliment of officers you can't provide a service to the parishioners."
St Helier is also looking for a centenier, and will be fined by the Royal Court if it cannot fill the position.
Centenier is the only officer in Jersey authorised to charge and bail offenders. They also have the power of search in certain circumstances.
Constable Crowcroft said: "Every parish has to run a full compliment of centeniers, in St Helier we need 10 and we currently have nine.
"We've been to the Royal Court twice having failed to have someone nominated at a parish assembly, they have given us a third strike and your out situation.
"We have a population of over 30,000 in St Helier and I think it is a reasonable expectation we can find 10 to work as an honorary officer."