Condor Ferries repairs 'on track'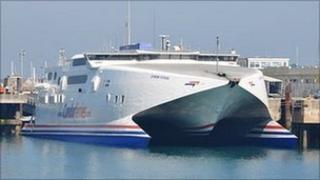 Repairs to two fast ferries owned by Condor - which operate between the UK, the Channels Islands and France - are on track, the company says.
The company said work on the Condor Vitesse was expected to finish on Saturday and a gearbox on the Condor Rapide was fixed on Friday.
However, gales and strong winds are due to affect services over the weekend.
Saturday afternoon sailings from Weymouth to the Channel Islands have been suspended.
Affected passengers will be moved to the Poole service.
Because weather forecasters were predicting winds of up to gale force 9, some schedule changes had also been made over the weekend to provide what the company called "as weather-resilient a service as possible".
Full details of changes to the schedules are on Condor's website and telephone hotlines.
All affected passengers would be contacted in person, as well as by text message, the company said.