Jersey Itex walker crosses finish line in eight hours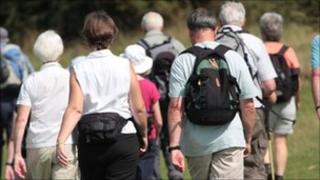 The first person to have finished Jersey's annual round-the-island walk has done so in just over eight hours.
Michael Charlton, 42, crossed the finish line of the 2011 Itex Rotary Walk at the Waterfront in St Helier just after 1100 BST.
The 21st annual 48.1-mile (77km) walk, started at the Elizabeth Ferry Terminal in St Helier at 0300 BST.
Local charities are set to benefit from money raised by it. More than 1,000 people registered to take part.
Nearly 1,300 people were involved in the challenge in 2010.
Organisations to benefit from the 2011 walk include Age Concern, the Abbeyfield Jersey Society and Silkworth Lodge, plus another 14 local groups.
In addition to the full walk, there was shorter walk - a quarter of the length - called the Lieutenant Governor's Challenge.