Jersey student loan limit could increase by £3,500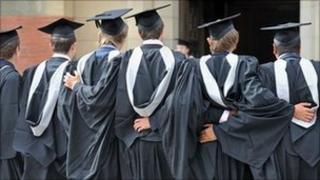 Jersey university students could be able to borrow an extra £3,500 per year under government student loan plans.
Students in the island are currently able to borrow up to £1,500 per year but the education minister wants to increase that to £5,000.
Deputy James Reed is trying to find finance companies and banks interested in providing the loan service.
He said it would help families struggling to cover the costs of a university degree.
Deputy Reed said: "Graduates are important to our society and the economy as a source of trained and well-educated personnel.
Lack of funding
"Jersey relies on graduates for a range of private and public sector roles. They are an important source of well-trained personnel for our society and the economy."
He said while the cost of education had risen, the value of the grants given to Jersey students had fallen because of thresholds not being raised.
"I want to ensure that all islanders who can benefit from a university education actually have a chance to do so and are not prevented because of lack of funding.
"Strengthening the student loan facility will ensure that families who find it hard to meet the costs will have extra help and can spread repayments over a number of years," said Deputy Reed.
David Greenwood, Assistant Director of Education, Sport and Culture said the loans were first introduced when tuition fees went up in the UK in 2006.
Jersey's education officials are currently in talks with UK universities over the fees island students will pay when they increase fees in 2012.
Jersey students pay international fees at UK universities.
Mr Greenwood said: "The value of the loan has gone up with RPI every year and it has now reached its limit.
"We are in discussions with UK universities over what is going to happen in 2012, we don't know what the outcome is going to be.
"The minister of education, at some point in 2011 or early 2012 will need to take a view on what the student grant can be.
"He needs to take a view on what parents can afford because its means tested and the difference between those figures may need to be taken as a loan."