Jersey airport introduces new air space control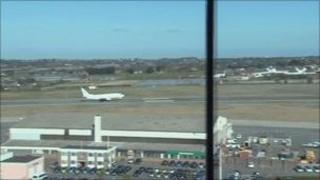 New control measures in the Channel Islands' airspace will come into force for three months over the summer.
The expected high volume of flights into the islands has resulted in new measures requiring prior notification of flight plans.
The temporary rules require permission in advance to fly into the islands' airspace.
Jersey airport has responsibility for the airspace and can handle up to 700 aircraft movements daily.
The high number includes commercial passenger planes as well as corporate and private aircraft that may be travelling to and from any of the three island airports or just flying through.
The prior permission required (PPR) scheme will last for three months up to the end of September.
Jersey Airport's Operations Director, Sandy Sawyer said there had been full cooperation between all three Channel Island airports which have a duty to operate a safe skies policy.
He said: "All three airports in the Channel Islands are fully supportive of the general aviation community and appreciate concerns expressed by them'."
The new rules come into operation on Thursday and will last for approximately three months.