Plans to expand Jersey ormer farm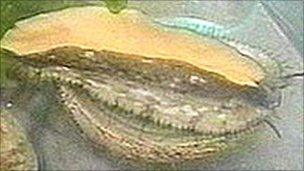 Jersey's ormer farm could double in size if planning authorities agree.
The Ormers and Scallops of Jersey company is based at La Crete Quarry, St Martin.
It has over 300,000 shellfish growing in the sea, but wants more space to increase the amount of ormers it grows.
Marcus Taylor, company director, said: "We already have a licence and a lease agreed with Property Holdings and so now we are just waiting for the final planning approval to go ahead."
The farm has been vandalised more than 10 times this year.
Incidents include petrol being stolen and the air supply to shellfish being switched off so that many of them died.
As well as adding more space the farm owners want to improve security.
Mr Taylor said: "It is re-establishing the ormer as an important part of Jersey - not just Jersey life but of Jersey business now."
Related Internet Links
The BBC is not responsible for the content of external sites.