States vote no to free milk for Jersey children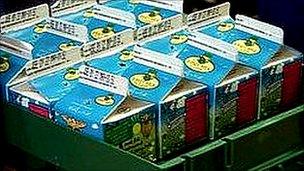 An attempt to get free milk provided in Jersey primary schools again has failed.
Deputy Geoff Southern asked the States to reinstate school milk, which would cost the Economic Development department around £138,000 a year.
It was cut as part of efficiency savings by the States last year.
Sixteen members voted for providing the milk but Health and Social Services Minister Deputy Anne Pryke was among 29 who voted against it.
She said: "The inescapable facts are that children now consume enough calcium and other nutrients from other parts of their diet and no longer need this free welfare milk to overcome deficiencies in their diets."
Earlier this year, campaigners started a petition signed by more than 10,000 people to bring back free school milk in Jersey.
Related Internet Links
The BBC is not responsible for the content of external sites.