Trapped girl, 5, rescued by Jersey firefighters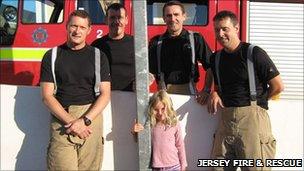 A five-year-old girl has been rescued by Jersey's Fire and Rescue Service after getting trapped behind a basketball post.
Firefighters used the equipment for freeing people stuck in cars to release Maya Berner.
Her leg was wedged between the post and a wall in a St Saviour playground.
Watch manager Richard Ryan said she had not been hurt and asked the firefighters for a photograph to take into school for show-and-tell.
He said: "Five-year-old Maya Berner was a very brave little girl throughout the whole ordeal."
Related Internet Links
The BBC is not responsible for the content of external sites.