Jersey deputy resigns from four scrutiny panels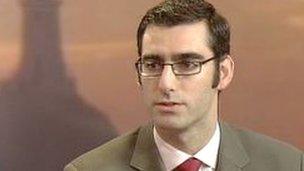 A Jersey deputy has resigned from four scrutiny panels that monitor government policy after losing a debate in the States on Wednesday.
The education and home affairs scrutiny panel wanted to allow members of the public to join the Jurats that visit prisoners to see how they are treated.
The vote was split, which meant the status quo was maintained.
As a result Deputy Montfort Tadier said he was standing down from the four scrutiny panels he belongs to.
He told the States: "I have had two and a half years to think about my position on scrutiny and this emphasises the fact that I am actually wasting my time completely when one comes forward with very moderate propositions which could have been much more radical.
"And I would ask other members of scrutiny to actually examine their positions as well."
The chairman of the education and home affairs scrutiny panel, Deputy Roy Le Herissier, said there was a "strong possibility" other members could step down too.
And the deputy said he was also considering his position.
"This is not an isolated incident, there are other matters unfortunately... and I have taken a fairly moderate view on these issues, and had to persuade my members to wait, to reflect and not to be impetuous."
Related Internet Links
The BBC is not responsible for the content of external sites.