Jersey employees are being made 'to pay for recession'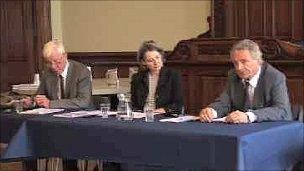 A report says difficult decisions are needed if the States is to reach its £65m savings target.
The advice comes from Jersey's Fiscal Policy Panel, a group that examines government spending.
But one politician, Deputy Geoff Southern, said: "Jersey employees are being made to pay for the impact of the recession."
Jersey's Fiscal Policy Panel is made up of three independent experts who advise the government on economic matters.
In its latest report, it suggests the States is broadly on the right track, but there was little room for manoeuvre and a number of new risks.
According to the panel, expenditure has risen slightly more than income, and although the plan still looks achievable, it will mean some hard work.
'Disposable incomes reduced'
It recommends the decision not to make all of the cuts named in the 2011 budget should be reconsidered or alternative measures should be found.
And it said the States needed to set strategic priorities for the future and build more ambitious plans to rebuild the the government savings account, known as the Stabilisation Fund.
But Deputy Southern said: "Jersey families have seen their disposable incomes reduced by between 7% and 9% over the past few months and years.
"This is the direct result of personal tax rises imposed by this government, combined with its inability to control rampant price rises.
"It is made worse by the refusal of ministers to properly deal with the issues of taxing foreign companies who trade tax-free in Jersey and of addressing supplementation.
"This deliberate policy to make ordinary Jersey residents pay for the recession is now hurting every Jersey family, and yet there is no recognition of this in the Business Plan for 2012, just more of the same."
Related Internet Links
The BBC is not responsible for the content of external sites.