Opening date for Jersey's Millennium Town Park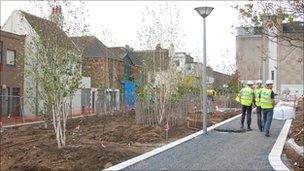 The Millennium Town Park, which has been 13 years in the making, will open to the public on Saturday 29 October, it has been announced.
The idea was discussed in 1998 and the States agreed to create it in 2000 after a petition from 16,400 people.
The plans stalled a number of times because of a lack of funds, but an "accidental" vote in 2009 meant £10m was allocated to pay for the new park.
Work started on the former car park earlier this year.
Constable Mike Jackson, Minister for Transport and Technical Services, said: "I know that a lot of hard work has gone into making it happen.
"For a small park, it has a lot of features and amenities for all the family to enjoy."
Part of the site was a former gas works and a lot of time was spent cleaning the land so it was fit to be used as a park.
The St Helier park was first discussed in 1998 but with an estimated cost of almost £30m, plans stalled several times because of lack of money.
In September 2009, the States spent more than half a day debating the proposal, and plans to spend £10m on the park were passed by just one vote, with 23 in favour and 22 against.
Senator Alan Maclean said he had meant to vote against the plans but papers on his desk meant he had pushed the wrong button.
Since then there has been a public consultation so transport and technical services and the contractor could "meet the needs of the community".
Constable Jackson said details of how the opening of park will be marked would be announced soon.
Related Internet Links
The BBC is not responsible for the content of external sites.