Jersey public cash invested in broadband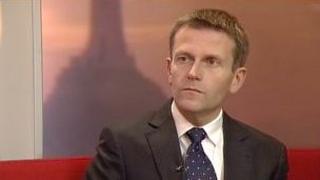 Tens of millions of pounds of public money could be invested in a new internet technology for Jersey.
The island is being used as a testing ground for super-fast fibre optic broadband.
The telecom company JT Global wants people living in Jersey to back a project to install the technology.
Jersey's Treasury Minister said he wanted to use public money to set up the network because it would attract new businesses to Jersey.
The international company UT Starcom, a major supplier to JT, moved its research and development to Jersey from Dublin because the island was setting up a high-speed fibre optic network.
JT announced last year that it planned to launch gigabit broadband by 2016 and was investing more than £40m to replace all of Jersey's copper cables with fibre optic cables.
Tim Ringsdore of JT said it would mean Jersey was at the cutting edge of technology and would benefit from new services.
'History of innovators'
Treasury Minister Senator Philip Ozouf said: "I think that literally we could leapfrog other jurisdictions in becoming almost the first fibred community in the world, that's the kind of innovative positioning needed for Jersey.
"We've got a history in Jersey of being innovators, we've produced the best fishing, the best boats, the best potato, nowadays we have a ground-breaking reputation in terms of financial services, I think we can do the same thing with ICT [Information and Communication Technologies] businesses."
Senator Ozouf said he needed to see if he could get the support of the Council of Ministers for an investment in the technology.