Stamp duty relief for Jersey first-time buyers could rise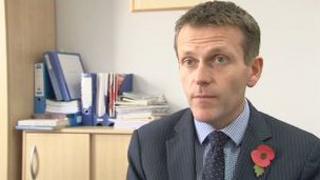 The amount of tax relief first-time buyers get in Jersey could be raised by the treasury and resources minister.
First-time buyers currently get relief on stamp duty and land transactions tax for homes costing up to £400,000.
But the Treasury Minister Senator Philip Ozouf said he wanted to increase the ceiling to £450,000.
He said the most recent figures showed the average price paid for a house in Jersey by a first-time buyer was £431,000.
The minister said: "It is important that we do all we can to encourage first-time buyers into the market.
"In the last three years Jersey's housing market has seen around a 25% reduction in the annual number of transactions.
"This has had a knock-on effect on the broader economy, affecting estate agents, lawyers, removal firms and trades people."
The minister also wants to amend part of his Budget on court fees at the Petty Debts Court.
Senator Ozouf said the 2012 Budget proposed to increase it to £15 - it is currently £7 for claims up to £100.
He wants to leave the fee at £7 after discussions with the Citizens Advice Bureau which was concerned it would cause additional hardship to people already facing financial worries.