Jersey could get a hosepipe ban, warns Jersey Water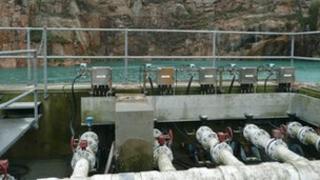 Jersey Water has warned there may be a hosepipe ban if dry weather continues.
Reservoirs are 35% full, and despite the desalination plant running at full power, water levels are declining.
Jersey Water's Howard Snowden said Jersey had a particularly dry autumn and long range forecasts were predicting more dry weather in 2012.
He said: "Unless we see some significant rainfall soon, we are reluctantly going to have to consider formal restrictions."
The restrictions include a hosepipe ban and other non-essential uses of mains water.
But other domestic uses, such as washing cars with a bucket, or watering a garden with a watering can would not be banned.
'Formal restrictions'
Mr Snowden said: "At this time of year they can have a somewhat limited effect as there is much less garden watering, for example, but it is nevertheless the next step to take in these circumstances.
"Whilst we appreciate that long-range forecasts may be subject to change, we have to plan in advance.
"A drier than average winter and spring next year would mean that any formal restrictions may have to extend into the summer of 2012.
"In fact, parts of the east of England have already announced water shortages, so Jersey is not alone in this situation."
He is urging islanders to use water sensibly and not waste it.