Senator Ozouf voted Jersey's new treasury minister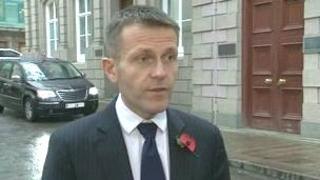 States members have rejected Jersey's chief minister designate's choice for treasury and resources minister.
Senator Philip Ozouf has been kept in the post after beating Senator Ian Le Marquand by two votes with one spoilt paper.
Deputy John Le Fondre and Senator Alan Breckon were the other candidates for the role.
Deputy Patrick Ryan has been elected as Jersey's new education minister beating Deputy James Reed 26 votes to 22.
The St John deputy was the chief minister designate's nominee and beat Deputy Trevor Pitman and Deputy James Reed to the post.
Re-balloting considered
Deputy Pitman was out in the first round of voting after getting 12 votes, Deputy Ryan then went on to beat the current education minister, Deputy Reed, in the second round with two spoilt papers.
The new social security Minister is Senator Francis Le Gresley, who beat Deputies Geoff Southern and Eddie Noel.
Deputy Andrew Green retained his job as housing minister after beating Deputy Montfort Tadier.
Deputy Green was the chief minister designates nominee for the role. He won 35 votes to 15.
In the social security vote Senator Francis Le Gresley got 25 votes and on the second vote beat Deputy Eddie Noel by just one vote. There was one spoilt paper.
The States then adjourned and considered re-balloting, as one member, the Constable of St Helier, had not been present for the vote.
When they came back the chair decided the result by not counting the spoilt paper.
Constable Simon Crowcroft, who had left the Chamber because of a bad back, told the States his absence would not have affected the result.
States members will start the sitting on Friday by electing an economic development minister.
The chief minister designates nominee is the current minister, Senator Alan Maclean, he is being challenged to the post by Deputy Mike Higgins.
Different ministry
Senator Gorst can change his list during the voting and any member can be nominated for any role by other members.
If, for example, his nominee is not elected for the selected role, he can nominate them for a different ministry.
The chief minister designate has already made one change, putting Senator Ian Le Marquand forward to retain his post as home affairs minister instead of Senator Lyndon Farnham.
He also wants Constable John Refault as transport minister, Senator Alan Maclean as economic development minister, Deputy Rob Duhamel as planning and environment minister and Deputy Anne Pryke as the health minister.
Members still have to elect five ministers and nine committee chairmen.