Disease in Jersey's squirrels causes concern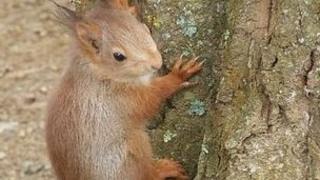 Researchers have found a disease among Jersey red squirrels which could cause a decline in their population.
Research by the JSPCA and the University of Kent found amyloidosis in the squirrels, a laying down of protein in the liver.
Researchers believe the disease could be caused by bad diet, or the urbanisation of the island and the squirrels losing their habitats.
The DNA research also discovered there were two breeds of squirrel in Jersey.
The research is part of a three year monitoring programme aiming to improve the care and welfare of squirrels.
The chairman of the JSPCA, Steve Coleman, said the research would continue until the cause of the disease was found.
He said: "It's only really been detected in Jersey, there's a couple of other places in England but only a very small amount."
Major Coleman said the study involved taking most of the DNA samples from roadkill, but some from a number of baby squirrels that were handed in to the Jersey Animals' Shelter that needed to be hand reared.
The study found the two distinct breeds of squirrel, one originating from France and the other from the south of England, intermingled well, apart from in one area of St Brelade.
Major Coleman said: "The population in the Corbiere and La Moye area sends its young out but doesn't allow any young to come back in, or so far that's what the study has found.
"We're interested in that, and it may be to do with environment because squirrels are territorial."
Major Coleman is asking islanders who see squirrels to fill out a form on the JSPCA website.