Jersey reservoir 'may close if dogs stay off leads'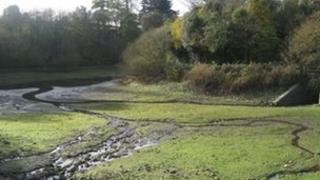 Queen's Valley reservoir might be closed if people continue to walk their dogs off the lead, according to Jersey Water which operates the site.
There are signs asking owners to prevent their pets going into the reservoir, but the company said not many were paying attention.
Jersey Water has hired a security guard to patrol the area to make sure dog walkers comply.
They are concerned pets are contaminating the water.
Howard Snowden, Jersey Water managing director, said: "If people ignore what we are saying and ignore the security guards then we will have to close the site.
"We don't want to have to do that because the vast majority of people who use our reservoirs go there with good intentions."
It was reported on Wednesday that Jersey's reservoirs were only 30% full after a dry spell.
Jersey Water said if there was no significant rain they may have to start importing water into the island by tanker from Norway.